Auto Service Shop Goes High-Tech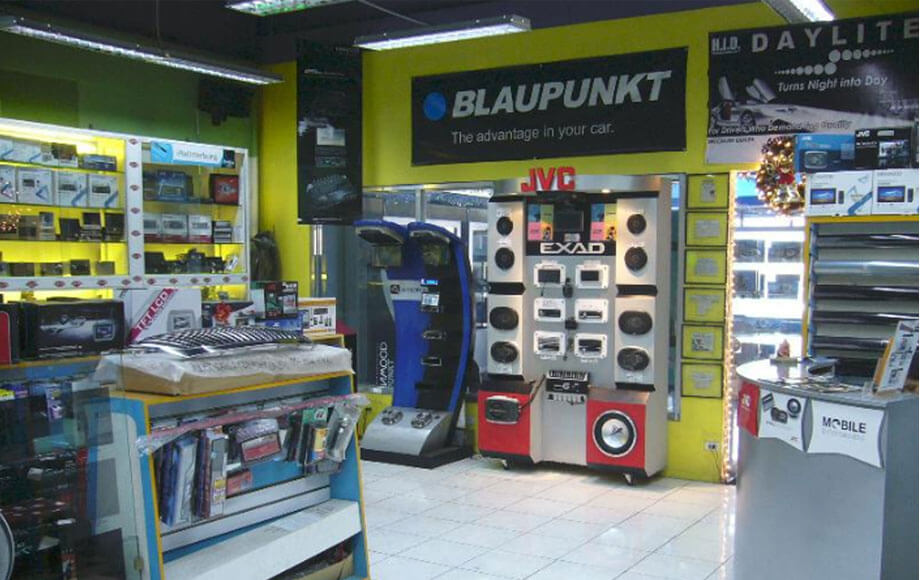 Advancing the Art of Car Accessorizing
The privilege of premium choices and services, the advantage of technology, the state-of-the-art facilities and the groovy ambience—it's all real at the highly advanced car service shops in Makati, Paranaque, Cebu and also Davao City.
With their Main Makati Headquarters at Guijo St. (NEAR Chino Roces Ave. / Pasong Tamo – check our map under home page ) in Makati City and a branch in President Avenue in Paranaque City is L.A. Car Accessories and Tint Room (Makati tel 02 8817-8617, Paranaque/Sucat tel  02 7748-8710), manned by a pool of friendly experts and whose equipments are vastly upgraded so car accessorizing can be thrilling. According to its passionate-for-cars owner, Amrit Mirpuri, who graduated from Florida, U.S.A. with a discipline in mobile sound engineering and also certified by MECP (Mobile Electronics Certified Professional), the shop's equipment upgrades are necessary considering the competition and today's more discerning car owners.
Says Mirpuri: "I believe only through modern facilities and experienced people can a shop provide consistent and high quality workmanship. Besides I always tell my clients, it would save them more money in long run since they won't have to come more often for repairs or replacements."Brands can be identified and experienced as Actual-feel convenience is endowed to customers with the prime option of experiencing the different premium brands even before buying, leaving no room of doubt after their purchase. With the exclusive dealership of L.A. Cars with world-class brands as JVC, Kenwood, Pioneer and DLS, expect more than the usual quality other auto service shops can offer.
Even more, the bulk of L.A.'s pride stems from its top-of-the-class services; featuring a unique sophisticated air-conditioned Tint Room, where tint application is guaranteed to be high quality, pollution and dust free. L.A. is a proud carrier of Nano-Tech, just the world's best tint used by N.A.S.A. for aerospace travels and by the U.S. Armed Forces on their Stealth missions, plus a variety of tint choices are also for grabs.
Revolutionize your car's entertainment system with sound-defying video, multimedia or stereo, where sound pleasure can extremely be different.
More things are even in store with other genuine services L.A. has to offer: Xenon HID/Wiring, Head Light Cleansing and Laser alignment, Lightning Auxilary/ Fog Lights, Car Care Products, Car Security, Alarms, Horns, and Ipod Interface for Car. All this comes at an equally worthy price, and with the quality assurance, returns and exchanges are impossible, satisfaction is just lasting. According to Mipuri, the shop also offers a laser light alignment service — the first here in the country — that ensures headlights, high-intensity discharge (HID) lamps and fog lights are safely and properly aligned.
What makes this all pleasantly revolutionizing is the gratifying waiting process L.A. has specially prepared for customers a relaxing wi-fi enabled customer lounge, where drinks and snacks are served, the programs featured, stunning and the people are all accommodating.To complete the feel inside the shop, Mirpuri also hinted on expanding his shop's operation by opening few more branches in Metro Manila and other key cities in the provinces. They currently have four branches located in Makati, Paranaque, Cebu and Davao City.
Services Offered:
Tint Room Air-conditioned, Dust and Smoke Free Application
Complete line up of speakers, components, head units etc.
Video / Multimedia / Stereo In-Car Entertainment
Xenon H.i.d. / Wiring
Headlight Cleaning and Laser Light Alignment
Car Care Products
Lighting / Auxillary / Fog lights
Car Security / Alarms / Horns
Dashcams and High Tech Car Gadgets