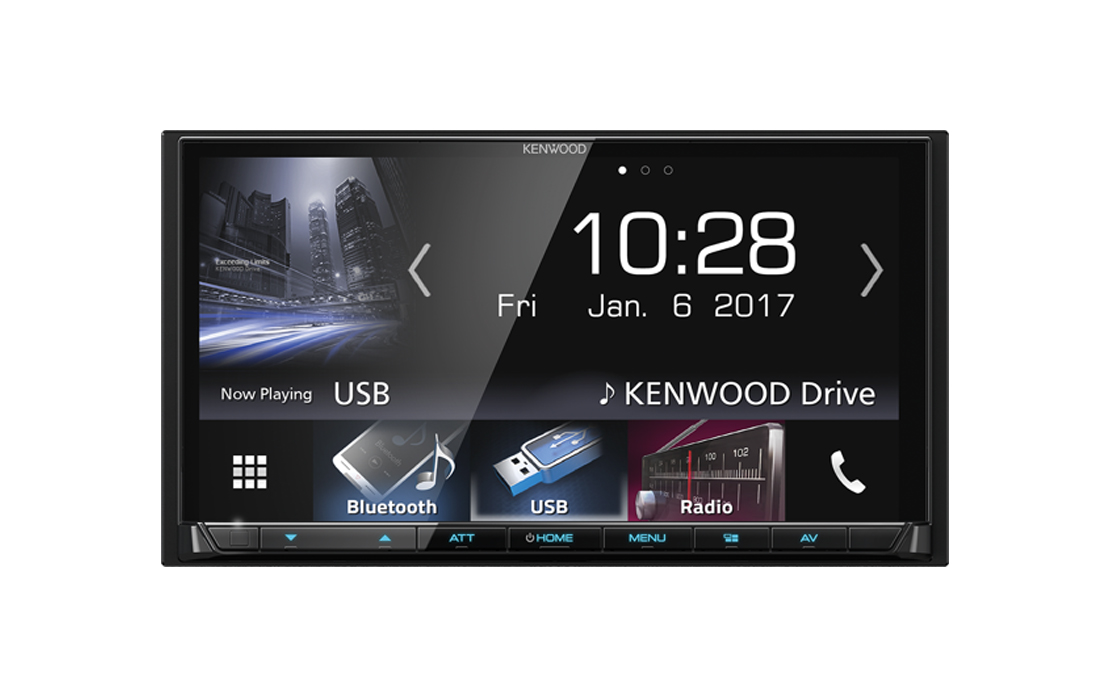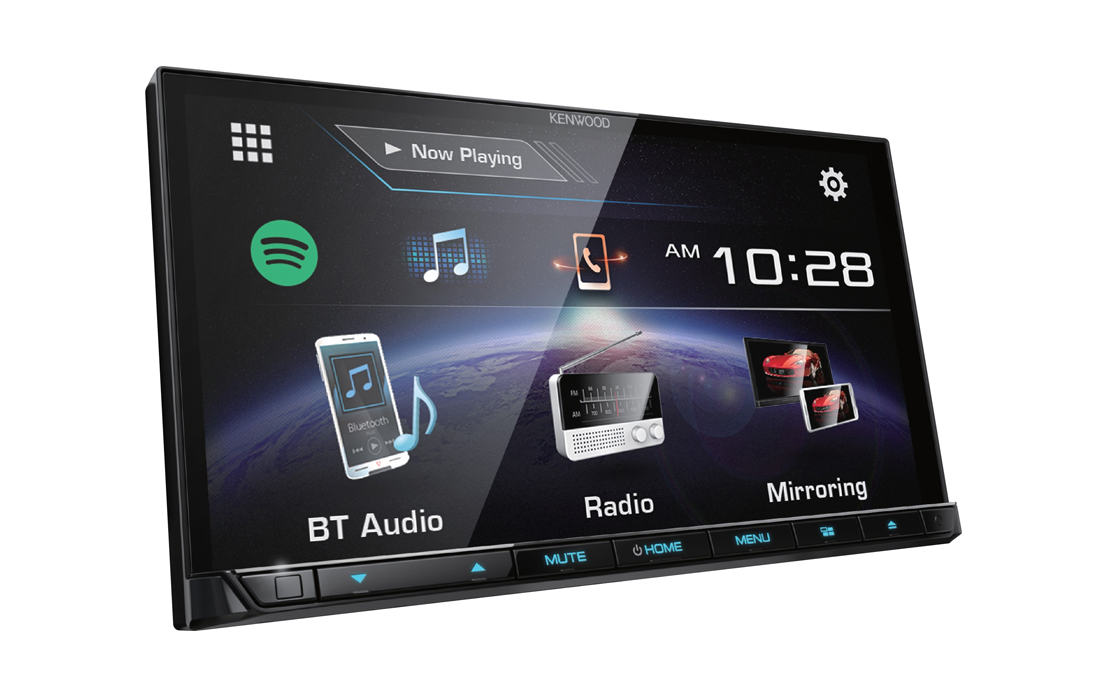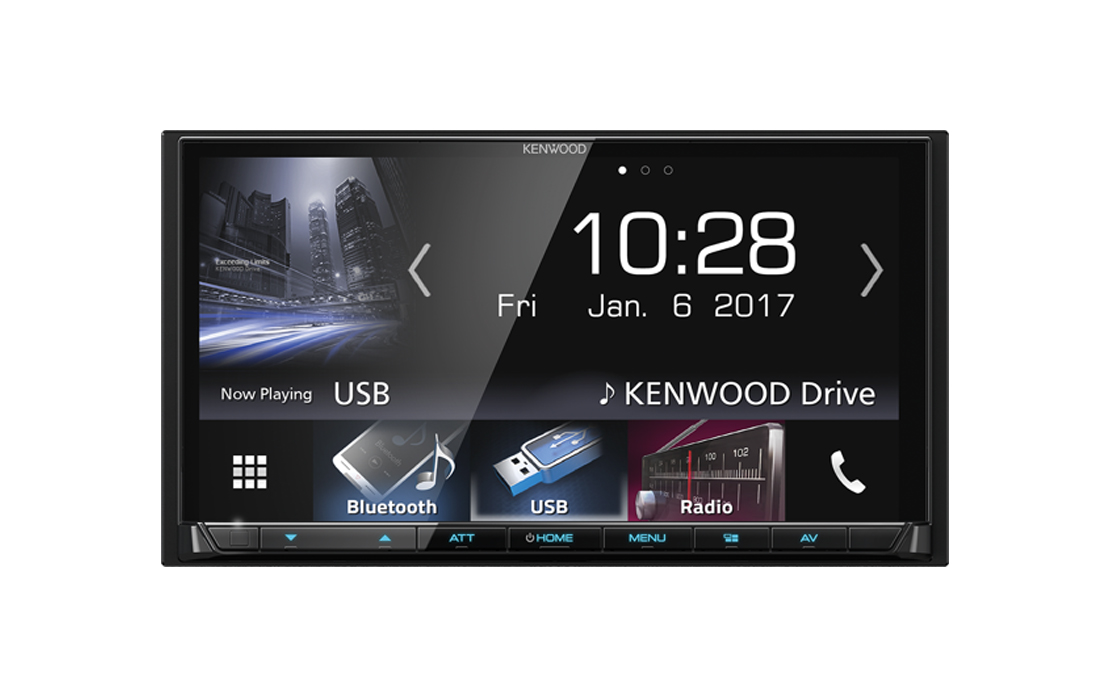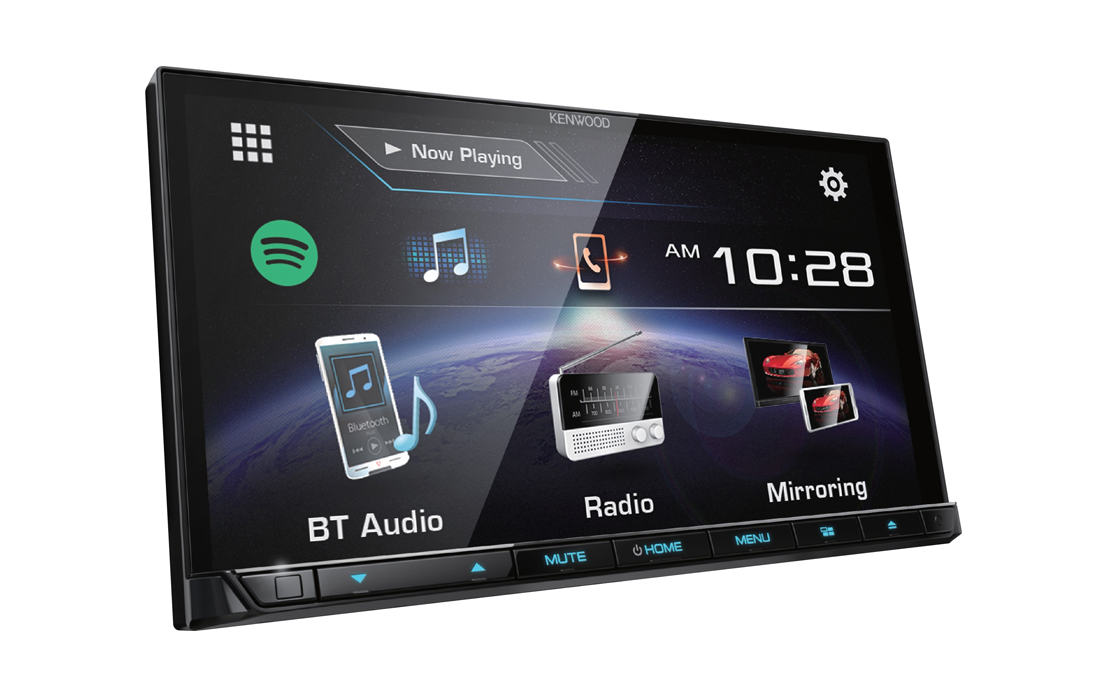 Kenwood DDX7017BT Car DVD Stereo
Php 27,000.00
HDMI® Interface,7inch WVGA Capacitive Touch Screen AV Receiver
INQUIRY FORM
Ready for "Air" Mirroring
Android and iPhone Wireless Mirroring over Wi-Fi.
You can wirelessly mirror any apps in your Android or iPhone by using KCA-WL100, HDMI / Wi-Fi dongle.
KCA-WL100
Optional HDMI / Wi-Fi Dongle.
Advanced Bluetooth
Dual phone hands-free ready.
AAC for iPhone
High Quality BT Music Streaming.
AAC : Advanced Audio Coding.
Siri Eyes Free
Kenwood Bluetooth models can activate
iPhone Siri via Bluetooth.
Hands-Free
Profile 1.6
HFP 1.6 covers wider frequency range
and produces clearer hands-free voice.
Spotify on Kenwood
2-Way Communication
Ability to control content from the Spotify App on iPhone and Android devices
as a dedicated source on the receivers. Listeners can play and skip tracks,
browse playlists, albums and radio stations via the Kenwood touch screen.
Spotify works over Bluetooth for Android devices and Bluetooth or USB cable for iPhone.
For service availability in your country, check www.spotify.com
USB with Max 1A Charge Capability
Video files
MKV (up tp 720 x480)
MPEG 4 / H264
WMV
Audio files
2 Camera Inputs for Multi-Applications
Includes "Rear Camera Guidance".
CMOS-130
The Recommended Camera.
7inch WVGA Capacitive Touch Screen
7-Band EQ + Digital Time Alignment
Auto EQ adjustment sync with volume level.
High voltage 5.0V / 3 Preouts with high / low pass filters.
Direct OEM Steering Remote
Specs
MONITOR
SECTION
PICTURE SIZE
W X H
6.95 inches(diagonal) wide
156.6 mm(W) x 81.6 mm(H) , 6-3/16(W) x 3-3/16(H)inches
DISPLAY SYSTEM
Transparent TN LCD panel
DRIVE SYSTEM
TFT active matrix system
NUMBER OF PIXELS
1,152,000
800H x 480V x RGB
EFFECTIVE PIXELS
99.99%
PIXEL ARRANGEMENT
RGB striped arrangement
BACK LIGHTING
LED
DVD
SECTION
D/A CONVERTER
24Bit
AUDIO DECODER
Linear PCM
Dolby digital
MP3/WMA/AAC/DivX
VIDEO DECODER
MPEG1/MPEG2
WOW & FLUTTER
Below Measurable Limit
FREQUENCY RESPONSE
 96K SAMPLING
20 – 22,000 Hz
48K SAMPLING
20 – 22,000 Hz
44.1K SAMPLING
20 – 20,000 Hz
TOTAL HARMONIC DISTORTION 1KHZ
0.010%
SIGNAL TO NOISE RATIO
94dB(DVD-Video 96k)
DYNAMIC RANGE
91dB(DVD-Video 96k)
DISC FORMAT
DVD-Video/DVD-VR/VIDEO-CD/CD-DA
SAMPLING FREQUENCY
44.1kHz/48kHz
96kHz
QUANTIFYING BIT NUMBER
16/20/24bit
USB I/F
SECTION
USB STANDARD
USB2.0 High Speed
FILE SYSTEM
FAT 16/32
MAXIMUM POWER SUPPLY CURRENT
DC5V=1.0A
D/A CONVERTER
24Bit
AUDIO DECODER
MP3/WMA/AAC/WAV/FLAC
VIDEO DECODER
MPEG1/MPEG2/H.264/WMV/JPEG/BMP/PNG
HDMI I/F SECTION
Type A
MHL SECTION
SUPPORTED VERSION
MHL 2
MAXIMUM POWER SUPPLY CURRENT
DC5V=900mA
BLUETOOTH
SECTION
TECHNOLOGY
Bluetooth Ver3.0+EDR
FREQUENCY
2.402 – 2.480 GHz
OUTPUT POWER
+4dBm (MAX),0dBm (AVE) Power Class 2
MAXIMUM COMMUNICATION RANGE
Line of sight approx.10m(32.8ft)
AUDIO CODEC
SBC/AAC/MP3
PROFILE
HFP(Hands Free Profile) V1.6
A2DP(Advanced Audio Distribution Profile) V1.2
AVRCP(Audio/Video Remote Control Profile) V1.5
GAP(Generic Access Profile)
HID(Human Interface Device Profile)
PBAP(Phonebook Access Profile)
SDP(Service Discovery Profile)
SPP(Serial Port Profile) V1.2
DSP
SECTION
GRAPHICS EQUALIZER
BAND
7Band
FREQUENCY(HZ)
62.5/160/400/1k/2.5k/6.3k/16k
GAIN
-9/-8/-7/-6/-5/-4/-3/-2/-1/0/1/2/3/4/5/6/7/8/9[dB]
2WAY X'OVER
HIGH PASS FILTER FREQUENCY
Through/50/60/80/100/120/150/180/220
SLOPE
-6/-12/-18/-24[dB/Oct.]
LOW PASS FILTER FREQUENCY
50/60/80/100/120/Through
SLOPE
-6/-12/-18/-24[dB/Oct.]
POSITION
FRONT / REAR /SUBWOOFER DELAY
0~610 [cm] ( 2cm / Step )
GAIN
-8 to 0dB
SUBWOOFER LEVEL
-50 to +10dB
FM
FREQUENCY RANGE
(FREQUENCY STEP)
87.5MHz – 108.0MHz
(50kHz)
USABLE SENSITIVITY
S/N:30 DB
6.2 dBf
0.56  μV / 75 Ohms
QUIETING SENSITIVITY
S/N:50 DB
15.2 dBf
1.58μV/75Ohms
FREQUENCY RESPONSE
(±3.0 DB)
30Hz – 15kHz
S/N( DB)
68 dB(MONO)
SELECTIVITY
Over 80dB (±400kHz)
STEREO SEPARATION
40 dB(1 kHz)
AM
FREQUENCY RANGE
(FREQUENCY STEP)
531kHz – 1701kHz
(9kHz)
USABLE SENSITIVITY
28.5dBμ
VIDEO
COLOR SYSTEM OF EXTERNAL VIDEO INPUT
NTSC/PAL
EXTERNAL VIDEO INPUT LEVEL (MINI JACK)
1Vp-p / 75Ohms
EXTERNAL AUDIO MAX INPUT LEVEL(MINI JACK)
2V / 25kOhms
VIDEO OUTPUT LEVEL (RCA JACK)
1Vp-p / 75Ohms
AUDIO OUTPUT LEVEL (MINI JACK)
1.2V / 10kOhms
AUDIO
MAXIMUM POWER OUTPUT
50Wx4
TYPICAL POWER OUTPUT
Full Bandwidth Power
(at less than 1%THD)
22Wx4
PREOUT LEVEL(V)
5V / 10kOhms
PREOUT IMPEDANCE(OHMS)
=< 250 Ohms
SPEAKER IMPEDANCE(OHMS)
4-8 Ohms
GENERAL
OPERATING VOLTAGE
14.4V(10.5V to 16V)
MAXIMUM CURRENT CONSUMPTION
10A
INSTALLATION DIMENSIONS  WXHXD
178mm x 100mm x159mm
INCLUDING THE SUB PANEL PART
OPERATIONAL TEMPERATURE RANGE
-10°C to +60°C
WEIGHT
MAIN UNIT
2.5kg
S.R.P. Php 32,000.00
Free installation. Credit cards accepted.
Option : w/ INAV navigation module Php 35,500.00
 S.R.P.  w/ INAV navigation module Php 39,999.00